How to start Far Cry 4 Coop Game on the PC.
Well first of all you need to complete about 6 missions to enable the Co-Op mode. That's the entire first level. Or you can simply download the first level save game files and place them into your appropriate directory.
Mine was: C:\Users\(NAME)\Documents\My Games\Far Cry 4
others could be:


Download Far Cry 4 save game files here
to enable coop play.
This must be completed on all the machines you will be playing with. Once this is done
– Continue or start a online game on the first machine.
– Then on that same first machine Get to this menu and click this GINORMOUS button.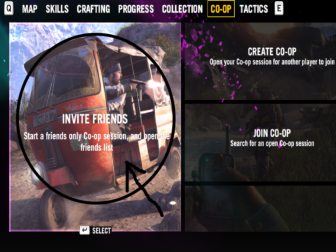 This will enable the
option on other systems if your looking for a game with just your friends.
Originally posted 2014-11-20 15:24:28.